Gold Buying Guide
Back to Main Menu
Do you have jewelry that you no longer wear? Get a gold price quote at Helms Jewelry!

The price of gold is changing every minute, which constantly affects the retail cost of fine jewelry. Prior to 2004, gold had been just under $400 per ounce, but as of 2010, the price of gold had risen to well over $1,000 per ounce. This large increase in the value of gold started a big trend among jewelry stores in buying unworn jewelry from their customers. Bring your unworn jewelry into Helms Jewelry, and we can give you a detailed quote based on today's gold market.

The chart below reflects the live price of gold per ounce at this very minute.



Please refresh the page to update the live price of gold in real time.
Source: www.kitco.com
Reshaping Your Jewelry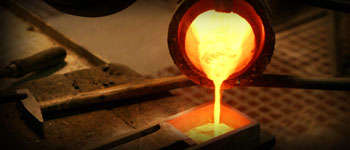 If you would rather have us craft your unworn jewelry into something new, we can help you reshape your jewelry into something that you will treasure forever. We can give your special piece of jewelry a brand new purpose, while maintaining its sentimental value, especially if it has been in your family for many generations. Do you have an idea? Let us help you design something unique and special based on your original concept. Click here to contact us about our custom jewelry services.
Precious Metal Quotes
Gold, silver, platinum and palladium have the highest economic value of all naturally occurring metals. These metals historically were used as currency, but now these metals are deemed valuable based on investment purposes and industrial commodity value. Helms Jewelry can give you a quote for your other precious metal jewelry based on today's ever-changing commodity markets. For a detailed quote, contact us today.
Image Source: www.kitco.com